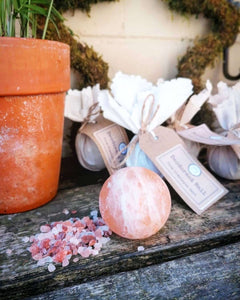 All natural, chemical and aluminium free alternative to deodorant.

Apply to dry, clean skin by wetting the ball and rubbing over the area thoroughly. As the salt dries it leaves an invisible layer of protection helping to naturally prevent odour-causing bacteria forming on the skin.
The salt won't clog the pores and sweat glands like spray deodorant, which prevents the bodies from ridding us of harmful toxins. 
Allow the ball to dry between uses and take care not to store in a wet/damp area.