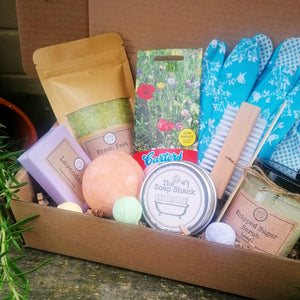 This postal box is the perfect gift for any keen gardeners out there
Each box contains :-
.
A jar of Lemon Sugar Scrub, made with coconut oil and olive oil for moisturising and sugar for exfoliation.  With naturally antibacterial lemon essential oil to clean and heal hands that have been working hard. 
A sachet of Fresh Feet Dead Sea Salt Foot Soak, with peppermint oil to revitalise and refresh tired feet and Tea Tree Oil to cleanse and treat bacterial or fungal infections. 

A bar of Exfoliating Olive Oil Soap to cleanse hands. 

A Lavender Bath Bomb to soak away aches and pains after a long day in the garden. 

8 Mini Bath Marbles
A Solid Moisturising Hand and Body Balm Bar to sooth had repair dry, cracked, hard working hands 
A wooden nail brush to get under the nails 
A pair of gardening gloves to protect hands 
A packet of wild flower seeds