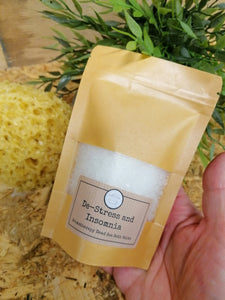 My Bath Salts are fragranced with my own, beautiful blends of pure essential oils created in house. For a truly indulgent aromatherapy bath time experience. 
They are a blend of Dead Sea Salt and Epsom Salts. Both of which are filled with natural healing elements. The salts contain 21 essential minerals that occur naturally in our bodies but need to be replenished as they are lost throughout the day. Bathing in Dead Sea Salt will detoxify and cleanse the body and Epsom Salts will relax aching muscles and calm nerves. They also nourish dry skin and replace much needed moisture.
My De-stress & Insomnia contains lashings of Lavender, Chamomile & Sweet Orange Essential oils - oils known to help calm, relax and relieve stress. The combination of relaxing oils  and warm bath water may also be helpful in aiding a good night's sleep. 
Weight - minimum 150g