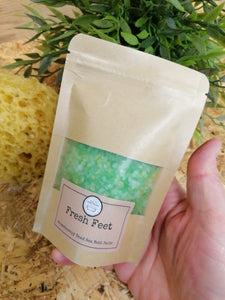 Salt is an effective treatment for swelling of the feet and legs as it draws out toxins from your body and helps with relaxation.
To maximise the benefits dissolve my foot soak in a foot spa or bowl of lukewarm water and soak for at least 20 minutes. Afterwards pat dry with a towel and elevate your legs whilst you rest for a while.
🍃Epsom Salts - can help relieve foot pain from conditions such as gout, will gently exfoliate dead skin, and help treat fungal infections.
🍃Dead Sea Salt - stimulates circulation, eases muscle cramps, helps to relieve stiffness in joints and soothes achy, overworked legs and feet.
🍃 Peppermint Oil - cooling and refreshing particularly in this heat. If you've been on your feet all day, using peppermint oil can help to reduce tension and swelling, while also revitalising tired feet.
🍃 Tea Tree Oil - the anti-inflammatory effect will soothe and relieve painful, irritated skin and help to reduce swelling. The anti fungal properties can help treat conditions like athletes foot and fungal nail infections.
minimum weight 150g